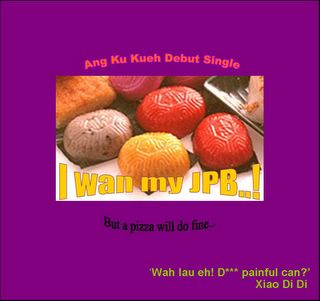 Debut Finally Out!!! Eagerly Anticipated!

Hi all!
AKK has finally released a singles entitled
'I want my Jih Pa Ban'
, inclusive of a full length hokkien gwa and a short 5 sec remix. an additional bonus track of 'Vision of Love' originally sung by Mariah Carey is also available in here!
Listen now and be amused disgusted in pain amazed!
Commentary
, pls listen before any further action.
Privacy protected! Singer is not resposible for any ear heamorrhage, deafness, mutations nor twitching limbs. Listen with caution. Treat your PC/Lappy/iMac with respect. Always know where the 'mute' button is at all times.....


out!

AKK