Hi al!


Many have speculated that it is because my Sirname is Ang, I'm Nonya and I love my Peranakan desserts...........
Well, ppl, you can't be further away from the truth............




And the Truth, is more inane than you think............








***************************************
*In sec 2....*
Class president:
Oy, Kueh, we have to design a T-shirt for our class this year leh.
Kueh:
er…why u telling me?
Class president:
becos we all know u very artistic and talented and can depend on you for a great design.
Kueh:
oh wow…thanks for the compliment.
Class president:
and also because the whole class all drew lots during recess yesterday and you got the only paper slip with the red dot out of 35.
Kueh
: eh? I got chosen? .... But I was on MC yesterday.
Class president:
well, as the class representative, I drew for you mah.
Kueh:
…….
Class President:
Anyway, we class 2I, so make sure u get a good class name. Done?
Kueh:
Okie, Autocrat.
Class President:
That's
Dictator
to you, girl.
*Next day………*
Kueh:
hey all! I've got a few class names I'm gonna read out, okie? So just raise your hands to the names you like best and we shall make it a true democratic societal decision.
Kueh:
Here goes! I in Class 2I stands for
1. Intense
2. Incandescent….
Hur hur
….
3. Indignant
4. Inside-out….we only allowed to wear the shirt during sports-day mah….
hur hur
…
5. Ignorance….no, I didn't read wrongly lah…
6. Igneous…..
*pause*

no, not Ingenious, Loh-Mai-Gai........ Ig-nee-ous. Like rocks? Yes, Rocks! Like we 2-Igneous, rite? So our class Rocks lah.............hur hur............yah..........Quite brilliant hor........

7. Indigenous..........
*another pause*
Yes yes, as in
In-dig-gee-nous
ppl, like the Aboriginals in Australia and the orang laut in Malaysia… we also indigenous to the class wat…Natives of Class 2I mah….hur hur…yah, this one also brilliant….
And now my Favourite one, which I already have a ready-made design for, of which I've already customed the font and sizing for and which, if you choose it, I shall immediately call the shop to 'ok' the printing of 35 shirts for…ready?
8. .........
Ikan Bilis
!
*Silence…Crickets in the background*
Kueh:
OKie, now, we take the votes, just in case you guys forget the words we are voting for, I'll write the last one down on the board…
*10 minutes later…*
Kueh:
No? Really no? U sure about this? Dun wan 'Ikan Bilis'? It's quite cute wat! Why u all so stubborn! Cannot! 'Ingenious' so ordinary! It's not even on the list! Who say it's better than 'Ikan Bilis'. I heard that, Zhu-Bee-Beh! Don't call me Chairman Kueh! I hamtam u! I make you sing
Mari-kita
! President! Tell the class to accept 'Ikan Bilis'! No Ikan Bilis, not shirt! Hah! See what u can do about that?!
Kueh:
President? President? Oy! What u doin'?! Unhand me this instant! You guys are making a big mistake! It's a conspiracy! I dun want to go toilet break! I hear u, Hum-Chee-Peng! I'm pissed, not piss! Argghh!! I demand a recount! I demand artistic freedom! Arrrgghhh…
*2 months later …. *
Kueh:
*bored and sarcastic*
please come collect your 'Ingenious' shirts, very 'Ingenious' your shirts are, 'Ingenious'-ly original, no one could guess class 2I is 2-'Ingenious'. Ohh Noo….so inspiring, we'll win the competition for best name definitely; after all, we are so 'ingenious' to name ourselves 'ingenious'. Oh yes, so much better-sounding than the cute, salty Ikan Bilis …I so agree….
*sniggering in the background...*
Kueh: Oy! I heard u, Ang-Dau-Teng! You think your art so good, issit? U know how long it took me to change the design from Ikan Bilis to 'ingenious' or not? Huh?! You know how difficult it is to colour the design or not, I got draw rainbow also! See the nice arch, that's the rainbow! What u know about art?! Wah lau! U blind! Norhhhh, this arch! Here! Ooooo….sarcastic now, aren't we, Ew-Zha-Kueh! So it's a white slab! My fault, issit? The shop only can do black/white mah! Blame me! Everything blame me! You guys need me, I shall be hiding in the toilet crying my eyes out!





*1 year later, sec 3….*
New Class president:
ay, I hear u designed the T-shirt for class 2-Ingenious.
Kueh:
Yup, not bad, right, the T-shirt?
New Class President:
The design Ok lah, but the naming was fantastic!
Kueh:
……
New Class President:
So, how about designing a T-shirt again this year?
Kueh:
Do I get
carte blanche
?
New Class President:
Huh?
Kueh:
I mean, do I get the right to finalise all details?
New Class President:
Why, sure! Democratically, of cos.
Kueh:
Okie! I'll do it!
New Class president: Great! So get a list of names for 3A and present them to the class by next week. Deadline for T-shirt is 2 months.







*2 months later….*
Kueh:
*bored and sarcastic*
Go on, come collect your 'Awesome' shirts. Very 'Awesome' shirts they are…inspiring, is 'awesome'.
*yawn*
Absolutely spewing with creativity. Yes, make my day, let me re-design the T-shirt all over again! 'Ang Ku Kueh' is a damn fine name what... Soft, squishy and sticky, wat's there not to like?
*whispering in background*

Kueh: Oh great! I heard you, Lek-Tau-Teng! It's not my fault the Ang ku kueh design became 2 big white blobs in front mah, the shop does black/white only wat! My fault it looked like bra cups, issit?! I may be relegated to vice-T-Shirt chairman now, but I still can wallop your sorry ass! Wanna piece of me?!! Huh?! Come and get me!!!



Kueh: Yeeeeaaaaaaaaa! I kick your butt! Kick kick! Class president? What are you doing?! Unhand me! Noooo..............I want Ang Ku Kueeehhhhh.........


*class door slams…..Screaming subsides…….*

My dream was unfulfilled, so this is why I call my self Ang Ku Kueh…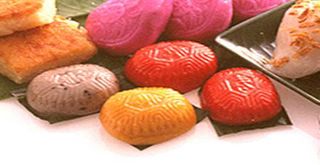 Out!
AKK