correction!: i whacked stars 2 times, but i was aiming the other baton for Vanna, so vanna, u got whacked with stars also! hehehe...sorry, i blur....
thanks for telling me, abt the error, Jaywalk.
AKK
hiya! I shall take this short time to plonk the entry on my shoe history.
I got whacked by
Jaywalk
,
Jellygirl
and
Ed, Edd and Eddy
, so I shall bow to their wishes and tell the whole world where i got all my corns from....
total no. of shoes:
i fail maths! can't count! muahahaha....no lah, i too lazy to go open the shoe cabinet....but i think at least 6 pairs lah, not a lot becos my mum screams at me to pls tidy up my shoes, but i never do, so i dun buy more to aggravate her.
Last shoe I bought:
er....i think it's the yellow strappy one below from tracce....bloody hell, buy already, then all the oter colous start coming out! arrgghhh....could have gotten a nice pink one!....
how many shoes beneath my workdesk?
4 pairs! all lab work shoes to avoid spills on my naked toes. it's sad becos we can never take them home to wash, because they are considered biohazard stuffs...so i buy and buy and buy for the lab....once in, cannot go out into the world liao. waste money...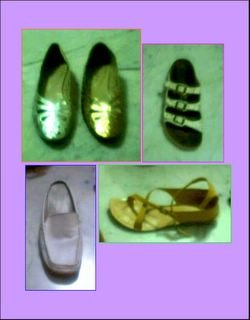 my shoes!!!

the above are a few of my fav shoes....i love Carlo Rino, and i bought the gold and silver mules from this brand. I used to wear only WHITE shoes and sandals because I got super tanned (but
thick
) legs, but now I diversify so i can wear more white clothings, hahaha....
the white mules are also from Carlo Rino. My papillio Birkenstock (english garden-cream) is a birthday gift from my frens...they very nice...super-expensive siah.
Okie dokie!
here's the shoe baton to the following pple!


Yan
Vanna
tempestblue
frenie
Zhebin
Wisps of stars
ay....i know i send to quite a few pple hor...but who cares! the more the merrier!Pls dun do if dun want ah! it's ok one! :)
Out!
AKK