Hi all!
Recently, I've been confused about some things in my life. I can't say what they are except that I've become sleepless over them. In fact, I don't even think they are problems, but I'm still sleepless anyway….
geez….i hate being clueless…
But regardless! I shall talk abt happy things today!
I've gotten myself a Breadmaker! Weee….!!! I've been wanting it since JC! But back then, breadmakers were toys for rich tai-tais. They come looking like a rice-cooker, then all anyone has to do is to just dump in the water, the milk, the eggs and the flour and let the machine do all the mixing kneading and baking! This is like the culinary equivalent to nuclear fission....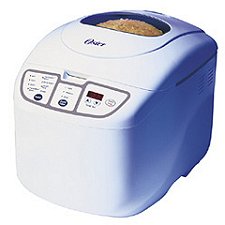 breadmaker
Can imagine all those tai-tais who's never had to descale a fish or cube up raw meat before, viewing this machine like Godsend. It would feel as if u've done all the house-wifey work of making bread for your hubby and kids. Everyone applauds you for that delicious raisin bread that you didn't make, the banana-chocolate chip bread which you got thru pressing a few buttons. People admiring your dedication to your family in the form of fresh bakery everyday!
Wah......
I also wan.....
So recently, Safe superstore had a sale advertised in the straits times. 3-days only! Breadmakers $99 each! Just 50 sets! Limited to one per customer! Enjoy great savings! No regrets!
So immediately after I left work, I rushed down to Harbourfront, hoping against hope that there are only 49 tai-tai wannabes working there who reads the newspapers and are free during lunchtime…
Fat chance…
I even ran up the escalator with my elder brother trailing behind (him with the car, who drove me to get my new toy…).
When I sprinted through the entrance, I breathlessly accosted a bewildered sales personnel, grabbing him and almost screaming,
'where is it?!'

'what what?' *panicky*
'the 50th breadmaker!'

it took a while to register, by the time when I was about to bite his head off, he wordlessly pointed to some nondescript boxes right beside him….
Nicely packed, 5 boxes-high, were 10 rows of breadmakers….

And my elder brother heaved a huge 'Haiz!!' right behind me for making him accelerate past 70km/hr…….
But who cares! I got my breadmaker! Yippee! Now can pretend to be those homely gals who bakes scrumptious breads for their boyfrens or hubbies….
And A does love his bread….:)
After making the salesman move the pile to get the lowermost, innermost box of breadmaker among all the identical breadmakers, I happily brought it home (via my brother).
Here's wat I've done to it:
Monday: I made a 'deluxe white bread' becos I'm very law-abiding and the attached recipe book tells me to '
try this recipe first
!', so I tried it.
Then half-way through mixing, A came over to watch me watch my machine rolling the dough into a perfect ball….
'hey! Bread! Can I have chocolate chips in it?'
he sounded so happy and look so pleading that I couldn't say no, although Logic is shouting out that it's a 'deluxe WHITE bread'.
deluxe White bread
'pls, dear?
'
*hugs*

Oh well, Logic be damned!
'OK…..I guess we can add 1 cup of it.'

then he took out my
secret stash
of Hersey's semi-sweet chips. I realised now that lots of stashes that I tot were secret
wasn't
a secret to my whole family. Now he has been included into the circle…I wonder how they found out…
so I carefully measured out 1 cup and dumped it slowly into the ball and we both watched the machine hungrily for a while…then......
'you think 1 cup of chips is enuff?'
'dunno, wat u think?'
'I think we add another cup?'
we stared at the dough ball inside again for another five minutes. Already the chips were disappearing into the mixture, we hardly saw any on the surface.
Then suddenly, we heard the spongebob cartoon theme song blaring from the TV outside.
Whoooooo…..lives in a pineapple under the sea?

Spongebob Squarepants!!!
Suddenly, in a moment of
immense
decisiveness and teamwork, A opened the cover of the machine while I upended my precious chocolate chips onto the bread dough, then hand-in-hand, we rushed out to watch our favorite cartoon…….
After 3 hours, the bread was ready and we eagerly tipped it out, pinched a small piece each and blowing our burning fingers, popped the morsel into our mouths….
2 seconds of chewing was all it took. We frowned and stared at one another, then back at the bread.
Taking the knife, A sliced it right down the middle and opened it up…….
You would have tot that bread dough with almost a whole bag of Hershey's chips would be brimming with ...er....chips, but noooo....We couldn't find any sign of them……

becoming brown bread

On the other hand, We've just found out how to make dark brown WHITE Bread.

OUT!
AKK