Hi all!
This entry contains explicit picture (only one) and has been interspersed with MSN conversation with a fren.
Only last year, I was admitted to hospital due to………… wait wait….let me pronounce it out carefully….
gastro-enteritis-is-is
…er.... I was having diarrhea and vomiting almost every 5 minutes at home. I've had high fever and taking panadols didn't help because I would vomit it out. On the 3rd morning, I felt like my house mat that had been washed with bleach and rung dry in the sun….
……pale, wrinkled and hot….
I wanted to lie down somewhere and die…….

……or find a toilet and slump on it forever.
So in the end, I made my mum take me to E&R because its got both a mortuary and restrooms there.
When the tall and hansem doctor said I must be warded immediately; I was ready to kissed him with my shredded lips. Since he also inserted the intra-venous drip into my arm with minimal pain, he quite literally sprouted a golden halo and 2 white wings. I stared deep into his eyes and he stared back a while, i was sure at that moment,
we made a connection
…..then he gave me a quick smile and then turned the drip force all the way up. When I recounted my 'miraculous vision and electric attraction' to my Doc frens later on, they all asked me if I did or said anything funny to my Angel Gabriel.
Apparently it is possible to hallucinate under extreme thirst…. My fission of 'connection' had been 'a figment of my imagination' and 'a deep desire to be rescued' (there's a psychiatrist in the bunch...)…
......I remembered i was licking my lips.........
ohhh, the shame
…..........
I spent the next 7 days in the ward after admittance. I tried to tell the nurses (weakly) that since I needed the toilets very badly to vomit and pass motion, I needed to be placed near them. But nooo….they said I was young and strong and since they placed all their liver-failure and kidney patients around that area, I was shuttled to bed 35.
And yes, the nearest loo is at bed
80-something
…
So for the first few nights, there would be this female ghost who would hobble along the corridor of ward 53 every 10 minutes, dragging along the intra-venous drip-stand.
Sometimes, there would be slow measured steps with tiny tinkling sounds of the hard plastic hitting the metal stand and the wheels going
……..eee….....eee………..eee………..eee…….….
Sometimes, the steps would be faster when the ghost became more urgent ….barp barp barp goes the plastic bag of drip against the stand.
…….. ee.ee.ee.eeee.eee.eeee..eee..ee….
Sometimes there will be a crash of sounds when that female ghost
almost
couldn't make it to the loo, a crescendo of noises filled with laboured breathing and heavy footsteps…
……..EEEEEEEEEEEEEEEEEEEE!!!!!!!!! ……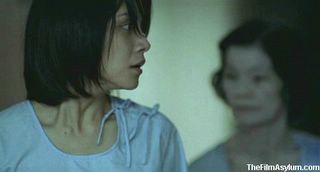 ooooo.......
MSN:
>...everyday stomach growling

>aiyoh

>on day3 hor, i reached the 'floating' stage, felt like i no need food liao....ke yi shang tien tang le….
The worse came when the nurses noticed I was bleeding. I had no more waste but I was passing out blood. There was an emergency call for the consultant who came at once to review me. All through it all, they didn't have a clue what was happening to me.
And so they ordered a
colonoscopy
…
You know wat a colonoscopy is? They use this to check for ulcers, colon cancers etc etc. They make you shit out your whole system, then plug this long hose with a camera into your butthole and push and push and PUSH till they reach the end of the colon before they pull it out.
It's a great system, only if it
doesn't
happen to you.......but it sure was damn amusing to the on-lookers...
Nur-si opened this tube of gel at my bed. Since I was almost comatose, I wasn't about to ask what she's going to do. But when she started flipping me onto my face and raising my ass up to hers, I felt morally obliged…
Without warning, she plugged that tube of gel into me and started to squeeze all the gel into my butt! KNN, as big as Pantene's hair conditioner!!!
look at the size of those things!!!
Like,
OOOWWWWW!!!!!
I immediately wanted to 'clench', but she barked out an order.
'Relax! Dun squeeze! Keep it all in for 2 minutes!'

2 minutes?!!!!
I started moaning.
'Nur-si, I could feel the gel all the way up to my throat….'

Then with a flip, she managed to lay me onto my back again and quickly spread a sheet below me.
'ok, you can let go now.'
And I let loose….
It might have been funnier to say that I overflowed the sheet, but I was a disappointment to her really. She only managed to squeeze in half a tube.
I wanted to comment that the bloody spill looked like a pregnancy gone wrong, but was too tired to crack that joke. Anyway, the nurse herself was fairly pregnant herself and I value my life.
I thought the trial was already over and started to relax again. Right….I forgot to mention that I didn't know I was going for colonoscopy because they only told my parents. But since my parents are not science ppl, they didn't know the implications and are not about to ask any
important
questions, only quite stupid questions like,
'will she be ok, sir?'
and
'how long will it take, sir?'
and
'will you be handling this personally?'
and the best one,
'how expensive is that colono-no-er-no-scopy?'
......... which means the consultant essentially did not have to touch the topic of the word 'colon' in colonoscopy at ALL.
Whereas if he'd told me, I would be asking lots of
pertinent
and
extremely important
questions like:
'Doc, issit gonna hurt, doc?


'Doc, you sure it's not gonna hurt, Doc?'


'If it does hurt like blazers, Doc, can I sue you, Doc?'
A sudden barrage of nurses, as if on cue, came upon bed 35 all at once. In a fit of high efficiency, I was speedily deposited onto a portable bed, then cranked up so high into the air, I almost hit the ceiling. The nurses' heads bobbed as they wheeled me along the corridor.
It was a different perspective altogether while I dreamily admired the white-washed ceilings….I'll never forget the fluorescent lights merging as a streamline of white glow as they flashed by.
it was a state of emptiness, of disassociation.
The dawn of enlightenment was just within my grasp...so this is what
almost-Nirvana
feels like......I reached out…
BANG! And almost flopped off the bed…. My cruising bed apparently collided with another patient's. Immediately I fell back to earth. The other patient on his own bed looked me balefully as the nurse below us quarrelled throughout the trip to the colonoscope room.
Over there, the lady doc said:
'Akk, I'm going to insert a thin tube into you and gently ease it into your intestines. Don't worry, this won't hurt a bit. I'll be gentle. I'm going to keep you sedated now, alright? We'll give you enough to make you sleep, so you won't feel pain.'
See the
bold words
? The woman was a
wang-ba-fucking-dan
liar
. I'll now write down the true meaning of her words by substituting them …
'Akk, I'm going to fucking jam a fricking massive hose into you and wham the bugger into your intestines all the way to your throat. Don't worry, this will sibeh hurt really really bad! I'll be so KN-sai chor lor to you your knees will never say 'hi' to each other again. I'm going to keep you conscious enough to feel that fricking fire up your asshole and yet weak enough to be unable to clench shut at entry, alrite? We'll give you enough to make an ini-machiam ant doze for 5 sec, so you will fucking remember this UFO-experience forever.'

Chouji-Nabeh-dan...

MSN:
>and then the doc gave me anal probe, can?!! bloody hell, sibeh jialat...

>wah... you backside no more virgin liao.

>Wah lau!!! i never tot of that leh!!!
Later when I ask my visiting doctor frens (after they stop quizzing me exactly which angel Gabriel it was), they told me that the sedation injected into my drip should have sufficiently conked a large Doberman. I told them I wasn't a doorman, so they had to check my drip and assess my health again. After making sure I'm perfectly lucid, they made me entertain them with a recount of my colonoscopy experience.
By the time I was done, they were lying across my blanketed feet in the ward, dying from stomach cramps themselves. When they could finally get some air, both Ham-Chee-Pang and Lek-Tau-Teng said they
totally
and
absolutely
commiserated with me, but also:
'Wah lau, you got the constitution of an ox, issit?! Ppl usually sleep through the whole thing one leh! How come u so special? That sedation supposed to wipe out pain and recollection! Not only never sleep, kena pain also! U sibeh suay…'
To which I answered back,
'Choujidan, how to sleep?! I saw everything can? Got fricking 40' plasma screen inches from my face, can? Loh-kun, Nur-si and me all watching anal porn!'
then I had to stop because they got floored again…
*pissed* 'Stop laughing! I not joking! Everytime she go and wedge the stoopid camera further into my butt, I saw my own insides split open like Red sea!! Sibeh painful! Like machiam Live–telecast Fear Factor!'
To which they collapsed again….
*mutter mutter* 'Chouji-nabeh-dan…want faint from horror also cannot, everytime I tot can sleep liao, she starts jamming again…....Stop laughing, you chao buggers!'
muahahahhahahhahaahha…………!!!!
I've got some great frens, I have......
OUT!
AKK


The other Choujidan was the follow-up doctor who joked that my colon is 'pristine' and 'clean as a whistle'.