*Except for sarongpartygirl, names have been changed/abbrev to protect privacy* and unless someone emails to akkueh@gmail.com to say they're ok with it, I'll not release more details than is necessary (although I'm dying to)…
Today is a day for truths!
Yes yes! I've been sooooo...bloody busy rushing a dateline that I'm in front of the PC all day long. I was soooo... busy, I didn't even got the chance to go online and read all my fav blogs (haiyah…see my links…there there)
So when this morning I read the paper about SarongPartyGirl and her nude pics, I knew I was missing out too much already, so I took 3 hours off to do some online browsing at all my links and also try to see if
SPG
's blog has crashed yet.
She hasn't! So I spent some minute being a voyeur…meaning I just scroll for pics and din read…..if I was a man, I'd be having those artistic hard-ons, u know, like see, no touch, very hot, but oh-so-arty-farty pics at the same time?
OK, so not so arty-farty….but really quite stylo-milo…
I'm babbling, I know. I'm not making much sense right now. This comes from having to finger-cramp 12 hours a day and STILL find something interesting happening in my life to blog…..
So obviously, unless you'd like to read about me chipping my nails on my Darling Lappy, or read about me admiring my orchids and counting the number of new shoots they have…(oh oh! Little White Orchid grew 1 new shoot! Big White Orchid's leaves looked a bit scorched from the sun…Medium Purple-White had her first inflorescence today! Weee…!!!)…..nothing interesting is happening in my life right now!
So! I went to read other ppl's life! And what do you know?!!! Treasure!
First, I update myself on my own blog because I only remember my own URL, that's what my links are for lah, like handphone list. ..to put those blogs I read about in, so I dun lose brain cells remembering... I know! Such a wuss…..
OK, so for today, I obviously went to SarongPartyGirl first before I went to my own blog, but that's not the point. ….
then next I click is X ...
sigh...this guy is, like, my hero? I started my own blog(s) because of him. sama sama story like all humble blog beginnings.... I started it to get a blog name so I could comment on his...like most ppl do so they could comment on Xiaxue...
so it's a habit of mine to turn on auto-pilot.
Lo and behold! INTERESTING! He went and had a blog meet-up! Ahahahaa…...all the while he always say he try not to meet lah…....dun meet better lah….....not good idea meeting lah…....haiyah…...eat your words lah, my fren..:)
So he met Y and Z, both very prominent bloggers, I assure you, and of cos, being bloggers mah, they subsequently all went and gave 3 different witness account of the whole meet-up. If you won't write about it, you won't be a blogger liao, you can lie about the number of ppl attending, or who attended, even say those ppl are actually your relatives…but no matter what, you'll blog about it because it's too good an opp to pass up.
So of cos, I read all three accounts, becos it's my idol we are talking about! Then strike gold! Weeee…..
Got PHOTO!!!!!
His photo! Ahahahahah…..oh gosh! My idol is a uniformed Navy/AF man! Oh Goodness! He's hot! Really hot actually….sigh….
Is there no
JUSTICE
in the world? He's
hilarious
and
hunky
at the same time?!! you can be both?! What happen to geeky glasses and gel-back hair 60s style?!!! Where's the skinny skinny arms?!
oh all accounts, he is quoted to be Mr SweetHeart...sighz...
And Jurongpoint?! I live across the street! I was eating at Fish and Co with my best friend! There! yes! yesterday! That place has got loads of Navy/officers/AF passing thru. I could have seen him! I'm, like, desparately trying to recall right now....the thing is, I thought I did...it's not everyday can see navy/AF guy with 2 cute gals...a lot of navy/AF but not
with
cute gals.....sadly, since he's with 2 pretty gals, no more eyeballs left for me even if I was there…
Dis i see him? Maybe...then again, maybe not...
Afterall, a blogger won't be a blogger if she doesn't blurt out something. She may lie or change name or say she's at home writing up…
But it's too good an opp to pass up...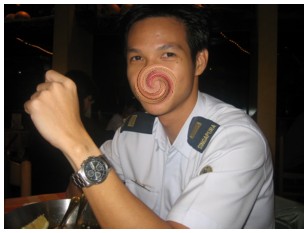 haiyah! in the words of
Li-er
...so Hansem!!!

that's all. I'm just gushing now becos fate is really so funny?



It's not as if i love Fish...
it's all pretty close...but no long cylindrical smoking thingy...
out!
AKK